Anderson .Paak is one of our favorite musical artists of the past decade here at Montevideo. .Paak is a multi-instrumentalist, singing, rapping, dancing genius whose backstory is almost as inspiring as his art. 
Let's get into it. 
Anderson .Paak's Musical Origins 
Anyone who's seen Anderson play in concert knows that he divides his time during each set between playing the drums and rocking the mic with his band The Free Nationals. His musical roots go back to his time living in Oxnard when he played drums for his local church. 

"I started playing drums in church in Oxnard, a church called St. Paul's Baptist Church," .Paak said when asked about how he began playing drums.
"My godsister invited me to church when I was about 11 years old after I had learned to play a couple beats. She was like, 'You should come to the church.' I went, and I saw the choir and the church band and I was hooked. I'd never seen any kind of playing — I'd never been in a black Baptist church before that. I was just in love with the energy."

.Paak later moved to Los Angeles, where he balanced his studies at the Musicians Institute in Hollywood with gigs here and there as a studio session musician. During this time, .Paak was a constant presence in LA's underground hip hop scene. He went by the name Breezy Lovejoy and was never afraid to hop in a cipha and spit bar for bar with other aspiring MCs.
Anderson's Name Itself is Synonymous with Quality and Attention to Detail
Did you ever read Anderson's last name and wonder if the period before ".Paak" was a typo? 
It's actually the exact opposite.
"The dot stands for detail," Anderson broke it down when interviewed by NPR. "Always be paying attention to detail. I spent a lot of time working on my craft, developing my style, and after I came out of my little incubation I promised that I would pay attention to detail. And on top of that, I want to make sure that dot is always there to remind me and to remind others."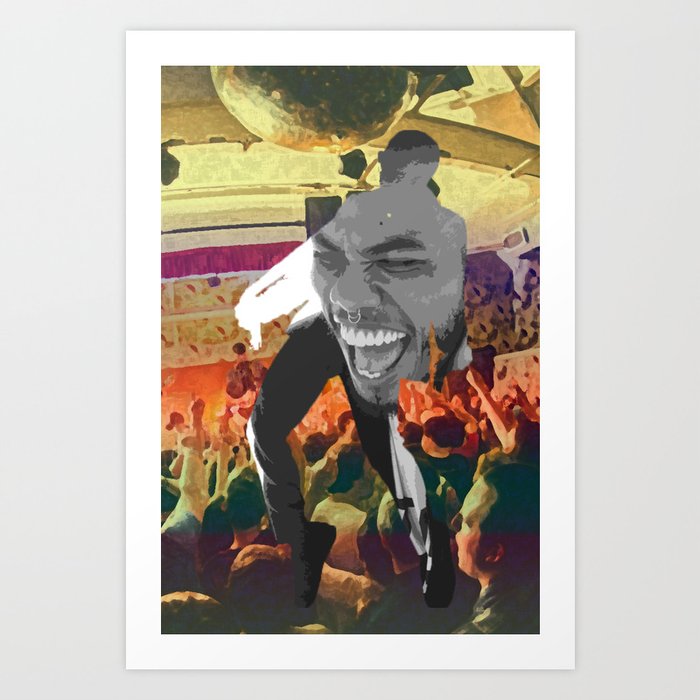 Get this Anderson .Paak print here.
Anderson .Paak's Struggle and Come-up is Legendary 
It's easy to see how exuberant and joyful Anderson is now and assumed he's walked an easy road to success in the music industry.
This couldn't be further from the truth. 
From bagging groceries to doing hard manual labor as a picker on a marijuana farm in Santa Barbara, Anderson is no stranger to struggle. He was terminated from the later job and both he, his wife, and his first son were left homeless.
Not long after this make-or-break moment, Anderson was invited to the legendary recording sessions for Dr Dre's album Compton. Anderson was featured on six total songs, more than any other artist on the album.
Riding the waves he made on Compton, Anderson released his second album Malibu and the rest is history. 
If you want to learn even more about Anderson's inspiring story, check this article out here or watch Anderson tell his own story in the video below. 
Where to Start With Anderson .Paak's Impressive Discography: 5 Essential Songs You Need to Hear Now

So How Many Albums Has Anderson .Paak Released Thus Far? 
That's a good question if you're new on the .Paak bus. Not counting the underground titles Anderson released as Breezy Lovejoy or the album of covers he released in 2013 (appropriately titled Cover Art), .Paak has released five full-length studio albums to date, including Venice, Malibu, Oxnard, Ventura, and  Yes Lawd!, his collaborative album under the group name NxWorries with producer Knxwledge.
What's the Most-watched NPR Tiny Desk Concert of All Time? 
You're right if you guessed Anderson .Paak and his band The Free Nationals. Recorded in 2016, this electrifying Tiny Desk Concert has more than 32 million views to date. 
Watch it below and you'll understand instantly why it went viral. How many times have you seen someone simultaneously holding it down on the drums, leading a band, and singing his ass off?
The sheer spectacle and technical brilliance of .Paak's showmanship in this intimate set is why this is the most-watched Tiny Desk Concert of all time. Don't take our word for it though. Check out the video below for yourself and enjoy! 
  Anderson .Paak is for the Kids 
One of the things we love so much about Anderson .Paak is how much love he has for his family. He genuinely seems like a good person and a good dad who hasn't let his new-found fame cause him to forget that family comes first. 
Just check out a few of these samples from his Instagram feed and you'll see what we mean. 
Here's Anderson with his eldest son at the Grammys. 
Here's Anderson buy a local girl scout's entire supply of cookies. 
And here's Anderson with his wife and two sons. 
So what do you think? Do you love Anderson .Paak as much as we do? Tell us what you think in the comments below or hit us up on the Gram at @montevideo_2030