James Baldwin was born in 1924 and is now widely regarded as one of the most important American writers and thinkers of the last century.
His work spanned a variety of genres and disciplines, including novels, essays, and plays. Equally important is the role he played as a socially engaged critic at a time of great upheaval and change in America.
If you've never had a chance to read James Baldwin and are looking for a quick primer on his life and work, the documentary I Am Not Your Negro by Raoul Peck (watch here for free if you have Amazon Prime) is an excellent place to start. The documentary takes the book James Baldwin never finished, Remember This House, as a starting point for a powerful examination of race and America in the 21st century. 
Here's the trailer for I Am Not Your Negro.
Baldwin's speeches and writings examine a variety of social and spiritual issues, many of which were considered taboo at the time. Depending on where you are and who you are talking to, some of these issues are still considered controversial today.
For example, considering the following excerpt from "Letter From a Region in My Mind," an essay Baldwin wrote for the New Yorker in 1962. 
"Whatever white people do not know about Negroes reveals, precisely and inexorably, what they do not know about themselves."
This is characteristic Baldwin: exploring the deepest psychological dimensions of racism with unprecedented precision and originality.
Baldwin was also not afraid to write about the pressures facing people with different sexual orientations. At the time, he was one of the only openly gay public intellectuals in America. The legendary Studs Terkel thus described Baldwin as "one of the rare men in the world who seems to know who he is today."
In a piece she wrote for the website Brain Pickings, Maria Popova noted as follows: 
No book since Virginia Woolf's
Orlando 
would do more to enlist art as a force of empathic insight into same-sex desire than
Giovanni's Room
, which Baldwin wrote in his early thirties against enormous resistance from American publishers, at a time when the DSM — the Diagnostic Manual of Mental Disorders, psychiatry's Bible — classified homosexuality as a "sociopathic personality disturbance."
No matter how divisive the topic was or how profoundly against the grain his thinking ran, Baldwin always retained an imperturbable calm and unrivaled eloquence, which is on full view in this legendary debate held at the University of Cambridge.
If you're inspire by what you've learned so far and want to dive even deeper into James Baldwin's life and times, we recommend you start here or here. 
In the meantime, we hope you enjoy the following selection of some of our favorite James Baldwin quotes. 
"Love does not begin and end the way we seem to think it does. Love is a battle, love is a war; love is a growing up."
 Get this colorful James Baldwin art print here.
"You think your pain and your heartbreak are unprecedented in the history of the world, but then you read. It was books that taught me that the things that tormented me most were the very things that connected me with all the people who were alive, who had ever been alive."

Get this James Baldwin iPhone case here.
"The paradox of education is precisely this - that as one begins to become conscious one begins to examine the society in which he is being educated. "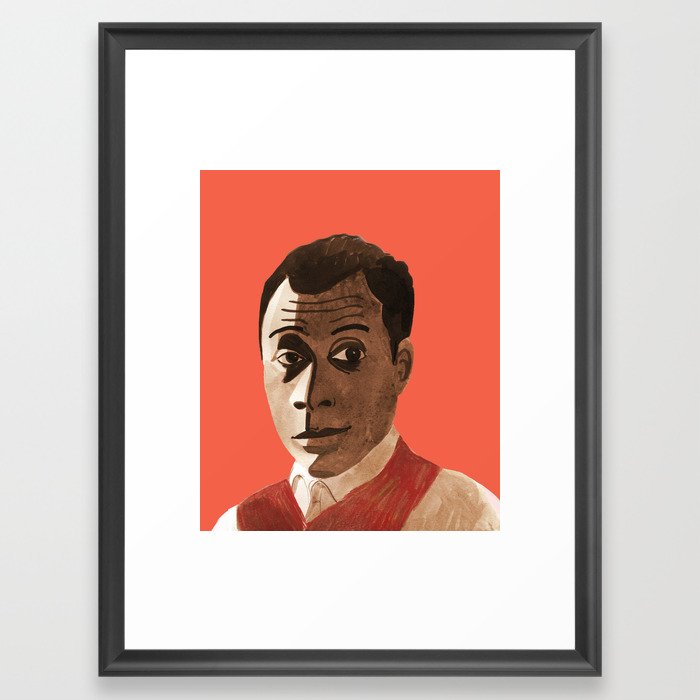 Get this James Baldwin art print here.
"Children have never been very good at listening to their elders, but they have never failed to imitate them."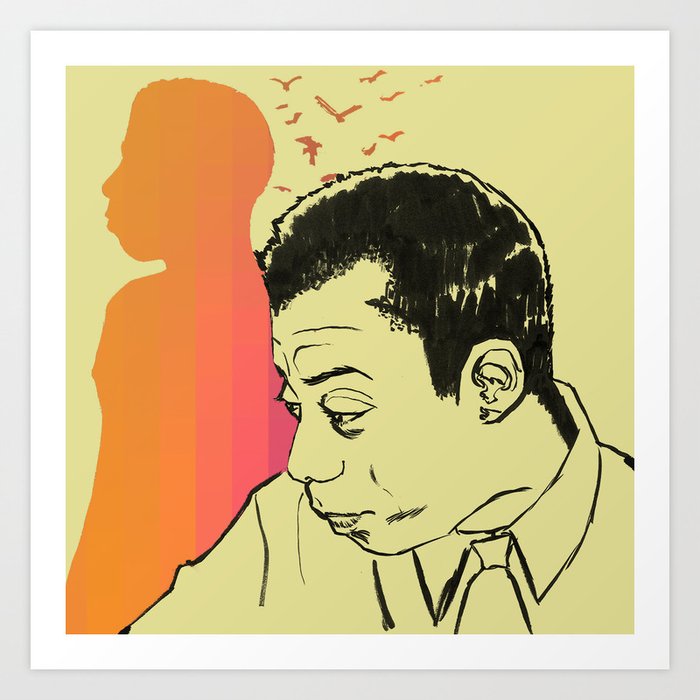 Get this James Baldwin art print here.
"Not everything that is faced can be changed, but nothing can be changed until it is faced." 
Get this James Baldwin quote t-shirt here.
"I love America more than any other country in the world and, exactly for this reason, I insist on the right to criticize her perpetually." 
Get this James Baldwin poster here.
"People pay for what they do, and still more for what they have allowed themselves to become. And they pay for it very simply; by the lives they lead." 
"Love takes off masks that we fear we cannot live without and know we cannot live within."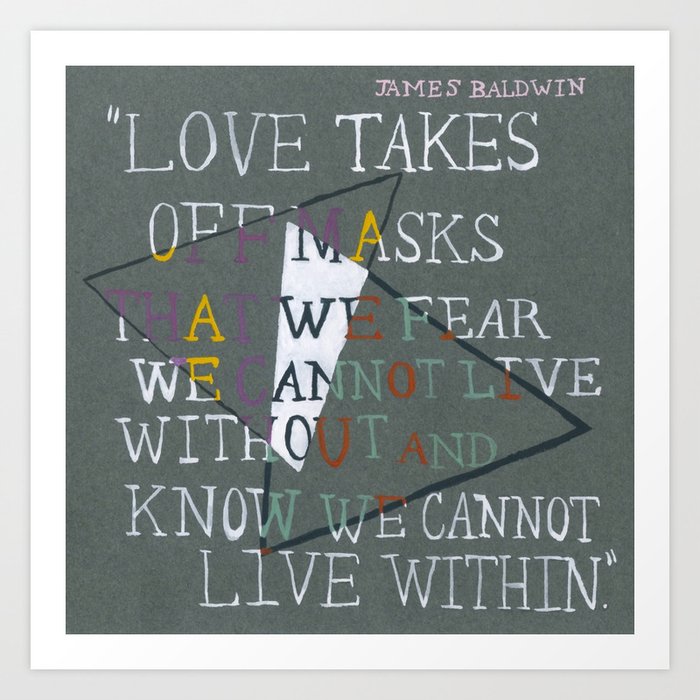 Get this James Baldwin art print here. "Anyone who has ever struggled with poverty knows how extremely expensive it is to be poor." 
James Baldwin's Books
If you're inspired by the James Baldwin quotes you read above, we strongly recommend you take the next step and start reading his books. Although he has written many books, including both fiction and non-fiction, we encourage you to start with these three essential titles.
Read Notes of a Native Son here.
Read Go Tell It On the Mountain here.